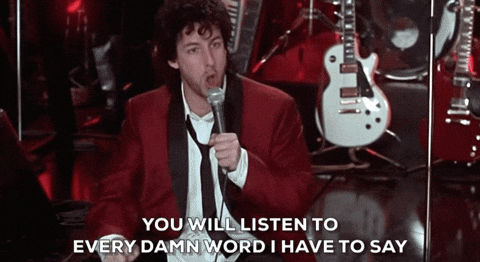 Feeling nervous about your wedding speech? We've got your back!
You've written it, you've rehearsed it and now you have to deliver it. (gulp!) More people fear public speaking than being buried alive but there's no need to panic about delivering your wedding speech. Have a stiff drink (just the one!) and follow our guide to delivering the best wedding speech! Whether you're the groom, best man, father-of-the-bride, maid of honour, bride or just a very special person!
INTRODUCE YOURSELF
There may be a possibility that not everyone at the wedding will know who you are. So be sure to introduce yourself and your relation to the couple if you're the first to speak. And if your speech is following another, acknowledge the person who spoke before you.
USE THE NEW MARRIED TITLES
Grooms especially can score serious brownie points for using "husband and wife" or "Mr and Mrs – basically the new titles that the bride and groom have just attained. Brides will love to hear this from the groom when they give their speech.
KNOW YOUR SPEECH (BUT USE CUE CARDS)
Practise your speech at every opportunity. If your memory's poor the practice will help you get familiar with the flow of the speech. If your memory's great you're lucky. In both circumstances we advise using cue cards. Why? Weddings are weird things. Wonderful, beautiful, amazing but weird. They've got the power to suck all logical thought from your brain and replace it with loved-up nonsense. Cue cards give you a comfort blanket and, if you use them right, they don't need to distract from the speech. Give copies of your cue cards to at least two trusted friends to carry on the day and take comfort in the fact you have something written down.
SLOW IT DOWN
Your wedding speeches are one of the highlights of the day. When you're nervous it's easy to speed up, so pace yourself and take deep breaths.
LOOK CONFIDENT & MAKE EYE CONTACT
Yes, we know you'll look blooming gorgeous but what we mean is look at the right people. Make eye contact with the guests throughout your speech and look at the relevant person when you're addressing them personally (for example, when you're thanking them or telling them how chuffed you are that they married you). Don't look at anyone who has their phones out and are filming you. Those people you can ignore!
CONSIDER A MICROPHONE
If your wedding venue has high ceilings or you've got a large number of guests attending your wedding, it's probably best to use a microphone. You definitely want everyone to be able to hear you!
BE ANECDOTAL
Anecdotes and personal stories are two essential components to help you deliver an amazing speech. You'll have loads of stories about the bride and groom so choose some of the highlights and string them together with a common theme.
LIVE IN THE MOMENT
It's a great idea to write your speech ahead of time, we definitely recommend that. But we also think it's a lovely idea to leave some space at the end to express how you really feel in the moment. There'll only be emotions that you feel on the day so make sure you embrace them.
TEST OUT YOUR JOKES...
It's a good idea to test them on someone or even double check with the bride or groom. This will help you give any overly inappropriate innuendos the axe if you need to!
FINISH THE BEST WEDDING SPEECH WITH A TOAST
You always want to try and finish your wedding speeches with a toast and say the right thank yous. Any excuse to lift that glass of champagne!
#bestweddingspeech #weddingspeech #weddingspeechadvice #bestmanweddingspeech #fatherofthebridespeech #groomweddingspeech